Celebrating Ten Years of Design Thinking at Quinine
To celebrate 10 years of successful retail design we opened the doors to our studio to have a party!
Our friends, clients and suppliers arrived from all over the globe to share with us how much we've accomplished since 2007.
To mark the occasion, we blended our own Quinine Gin at our local gin distillery. This proved a hit and many were surprised to learn the blend included a wildcard ingredient … asparagus.
Our live caricature artist captured as many of our guests as possible, watching him immortalise so many of our friends was very entertaining. Can you see any familiar faces?
With music flowing, food and drinks kept the party going late into the evening, until they came and took the marquee away with a few of our guests staying with us till the very end.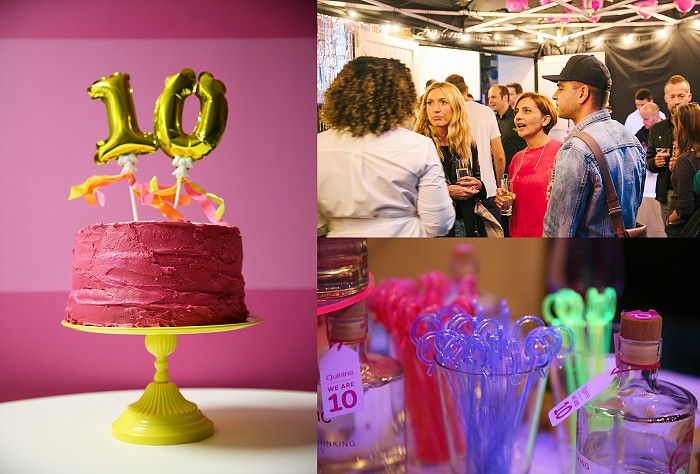 Cake, gin and celebrations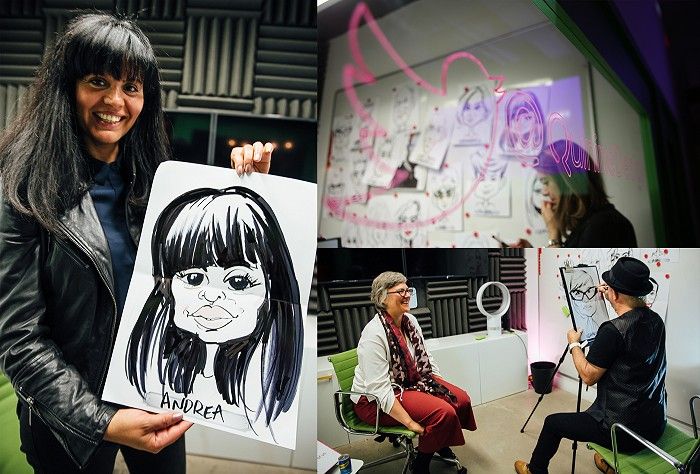 Fun in the green room with live caricatures
It was great to see myriad familiar faces and to receive so many congratulatory messages from those who were unable to join us. We look forward to building friendships with new and existing clients and suppliers over the next ten years.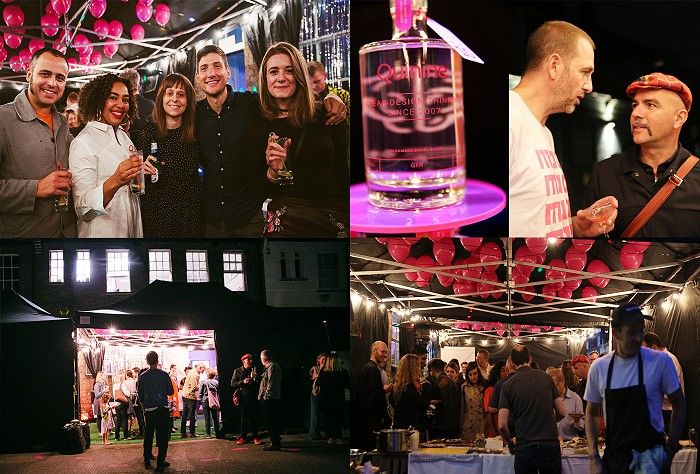 Party time outside in the marquee
To celebrate 10 years of strategic retail design, our team came together to recall their time spent at Quinine, documenting some of our key achievements and challenges solved.
It made us pause, take stock and realise we have actually achieved a lot in the past 10 years.
Working with Supple Studio, we created an animation which premiered at our 10th Anniversary Knees Up, you can watch it here and read the script below.

Read the story…
For the past ten years, we've been making stores work better for business, for brands, for staff and for customers.
Quinine people come from all over the world and have all kinds of skills, together we see things differently, but we always remember we're people designing for people.
We start by understanding problems using design research; we've done 2320 hours of interviews and created over 55920 mind maps, so we know what makes humans tick.
We think like industrial designers and know how to make things, which puts us in the driving seat - we've worked with manufacturers to produce more than 10321 fixtures, created 29 different store formats and landed over 1100 stores in over 450 cities worldwide.
At least 250m customers have visited one of our stores from Aberdeen to Winnipeg.
Our Founder, Ian, has a fetish for bespoke coloured trainers, a bug that's catching in the studio, but we're making real strides in the world of retail with big projects for big names, and now we're celebrating ten years of clear design thinking!


If you've enjoyed learning a little bit about what we do, give us a call or drop us an email to see how we can work together.
Like this article? Here are some related pieces: