The importance of the staff experience
When you put engaged and inspirational store staff into a thoughtfully designed store, this is where the real magic can happen, this is where brands can stand out.
All too often, the dialogue surrounding experiential retail focuses almost exclusively on customer experiences. Of course, this carries huge importance in the long-term success of any retail format, but when understanding a retail experience, we must look beyond the customer.
For a retail format to be a real success, it must not only work for the customer, it must also work for the business, the brand, and crucially, it must work for the staff.
So why is the staff experience so crucial?
Retail staff represent one of the key foundations of any great retail experience, and they are one of the key differentiators of brick-and-mortar retail. Without a healthy staff experience, the business, the brand and the customer will all suffer.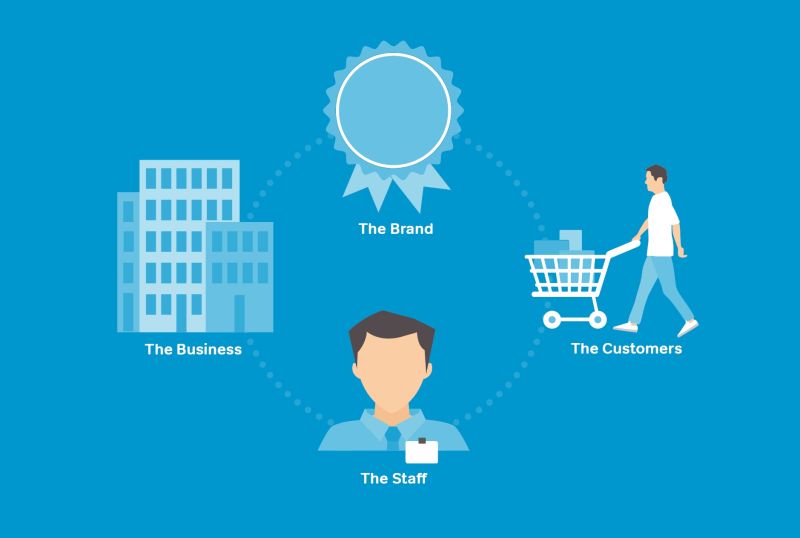 The Business, the Brand, the Customer and the Staff must work harmoniously together.
The importance of staff to the business

We know that every business is only as good as its people; retail is no different. Without even considering training and benefit costs, staff typically represent a retailer's second largest expense (behind property-related costs). Therefore, it's crucial that this key business component is working effectively. Businesses that support their staff reap the rewards. A recent poll by Gallup reported that highly engaged teams show 23% greater profitability. They also realise a 81% reduction in absenteeism and up to 43% reduction in staff turnover and a 66% improvement in wellbeing [1]. It is not surprising to learn that studies show that happy, healthy staff are more productive, and now more than ever, the physical and mental wellbeing of your staff is a prime consideration.
The Pandemic has changed the population's attitude to staff, and consumers are watching and taking note of how retailers treat their team and making judgements about those businesses that treat their staff well and those that don't.

The importance of staff to the brand

Through personality, tone of voice and human interaction, your staff communicate your brand values more clearly than any other channel. Store staff are your brand's biggest advocates, and over 90% of customers trust brand advocates more than any other advertising channel. Highly engaged and motivated staff create long-lasting brand loyalty and trust.
The importance of staff to the customer
The ability for a customer to connect on a human level is possibly the greatest strength of bricks and mortar retail. The online channel cannot do this, and ironically the digital age we now live in has created huge demand for face-to-face interactions. 71% of customers say that staff have a significant impact on their shopping experience [2] and they are 2.6 times more likely to recommend your brand [3], having interacted with a highly engaged retail employee. Customers want 'real' 'human' interactions.

The pandemic has created a different level of appreciation for retail staff. We are all more grateful for the challenges and risks taken by staff 'just' doing their jobs. This change in attitude is underpinned by a greater sense of empathy that we have towards one another.
It has also reminded us how valuable, rich, and fulfilling human interactions and physical experiences can be. It's the staff that are key to creating these experiences, and they are the ones to assure customers and give them permission to try, touch and test your products and services.
The challenge retail faces

Nonetheless, despite this importance, the retail industry is not getting staff experiences right. Reports indicate a staff turnover rate of up to 60% in retail compared to typical averages of around 19% [4]. Furthermore, when asked on a level of 1-5 how satisfied they are with their work, retail staff rate their job lower than people working in hospitality, ride-sharing, delivery and food services [3].
If the success of bricks and mortar retail is so reliant on face-to-face interactions between staff and customers, more needs to be done. Retailers need to improve staff loyalty and satisfaction. The industry needs staff to be highly motivated and engaged; it needs Superstars.

What motivates retail staff?

So, where can retail find these 'mythical' Superstars? The good news is they already exist… they are already on the payroll. Retailers just need to develop a clearer understanding of what matters most to their staff and build this into their staff experience.
If we consider workplace employees universally, we can organise what matters most into the following five categories:
The Pay and Benefits that an employee receives.
The Culture of the business and the type of people that work there.
The Training and Prospects an employee's role offers.
The Purpose and the Impact the role enables an employee to have.
And finally, a crucial element of an employee experience is their Workspace, and in the case of retail, the workspace is the retail store.
What matters to employees can be organised into five categories. Retailers must now consider the retail store as a workspace and not just as a commercial space for customers.
With so much emphasis on what physical retail spaces can do for the customer experience, the relationship between retail staff and the store is rarely considered. All too often, staff are made to feel like guests in their own 'workspace' and the focus is always on the customer. Yet, if retailers want to attract and develop 'Superstar Staff', they must show them that they care. To achieve this, retailers must now consider the store environment as a workspace that empowers staff, not just as a customer-facing commercial space.
The following six insights demonstrate some of the ways in which Quinine has helped retailers use the physical retail store to show their staff that they care, which in turn helps motivate them to perform better.

1- Inspirational spaces inspire people

People's expectation of the physical workspaces that they occupy has evolved. Retail staff are no different. They also want a workspace that inspires and motivates them. Of course, retailers need to deliver retail spaces that look and feel great for the customer, but equally, they must provide their staff with the inspirational workspaces they deserve.
Colour, scale, lighting and nature are just some of the tools and techniques available to retailers to create more inspiring workspaces for retail staff.
A retailer that invests in the quality of their store design will communicate to staff that they are trusted and that their employers care. The use of colour, materials, and scale to represent the brand reminds staff they are part of something bigger. Digital layers, lighting installations and biophilic elements can all be used to energise the staff and positively impact their wellbeing. These techniques can all result in a workforce that has pride in where they work, have a clear sense of purpose and will ultimately be more productive.
However, retailers must not limit these interventions to the shop floor. Staff are frequently required to spend time in the back-of-house areas too. These are often cramped, unloved and overused spaces. To keep staff motivated and engaged, retailers need to either invest in these spaces or encourage staff to use the front of house areas more for their administrative or social activities.

2- Offer your staff choice

One of the most powerful things an employer can do to motivate staff is to facilitate the different ways their staff like to work.
Let's consider a traditional service-focused retail space such as a bank. ING's flagship space in the Netherlands is regarded as an 'office' where staff can host clients. To facilitate this, staff are provided with a variety of workspaces; there are casual spaces, a communal seating space and semi-public and private consultation spaces. Audio-tech brand Sonos is a more product-focused retailer that provides staff with a similar range of spaces. Staff can choose to host customers at traditional product displays, product discovery areas or immersive zones.
Providing staff with this ability to choose has a huge impact on their day-to-day motivation and engagement.
At ING and Sonos, staff are empowered to choose their own unique journey and spaces to suit their own preferred way of working.
3- Make sure staff feel comfortable

Retail staff and how they perceive comfort comes in many shapes and sizes. Therefore, retailers must think broadly about the comfort of their staff, whether it be their physical or their emotional comfort.
To perform at their best and to be consistently motivated and engaged, retail staff need a comfortable space to work in. Is their working space big enough? Just because store areas meet accessibility codes does not necessarily mean that they provide the optimum working experience. Do you expect your staff to stand throughout their shift? If so, what measures are you taking to ensure their comfort? Alternatively, are your staff required to sit? Do they have the right kind of chair for their age and body type? Crucially, does the store deliver emotional comfort? Does the physical store environment make staff feel safe, or does it make them feel vulnerable?
Through significant events, such as the pandemic, staff safety is redefined. New interventions and protocols need to be put in place to counter levels of risk and anxiety and show staff how much you care.
Retail staff whose workspace causes them discomfort - physical or emotional, will be distracted, unmotivated and disengaged. Retailers must work closely with their staff to understand their needs and show them that they are valued and cared for.

4- Allow staff to personalise
Key to staff's happiness is the freedom and confidence they are given to be themselves. This is why in retail, one of the most powerful and emotive factors driving the success of the staff experience is the uniform staff are asked to wear. But allowing retail staff to personalise their uniform is more complicated than in traditional workplaces. Retail is a customer-facing, branded environment where staff's appetite to personalise must remain 'on brand'.
To facilitate this, Apple provides just a shirt and lanyard. So long as staff are wearing these, they can then personalise their look to suit their own unique identity. Adidas is a bit more restrictive. Staff must choose their 'uniforms' from either the Originals or Performance ranges. The 'Performance' uniform is fixed, but if staff choose the Originals range, they have the freedom to supplement their look with their own clothes.
Freedom to personalise can be delivered in many different ways. It does not have to just be about uniforms. Whether it be the tools that staff use, their tone of voice or the spaces they occupy in-store, those retailers who understand that staff need the freedom to be themselves, and offer them the right support, will ultimately find they have a more loyal and engaged workforce.
Personalisation does not have to just be about a uniform. It can also be in the tools that staff use.
5- Create opportunities for staff learning
Retail now demands that staff are experts in their roles. Retailers therefore need to devote greater investment and time in their people.
In addition to improving staff inductions and onboarding, more needs to be done to take advantage of the physical retail space to encourage staff learning. As retail experiences integrate more moments that enable the customer to learn, retail businesses should leverage these same spaces in-store to educate their staff. Whether it be in the service spaces, private or public, or around product displays, retailers can conduct skills workshops, help staff learn about company processes or train them on the tools that they need to fulfil their roles.
Stores that facilitate a culture of learning and development not only encourage staff motivation and engagement, but they also attract the best people from within the industry. If you invest in staff learning, you will attract the best performers.

6- Make sure the store works
Whilst all the points above are about the space working well, there remain some basics that continue to be missed. Retail staff are desperate to do a great job, but without the basics in place, their enthusiasm quickly dwindles.
Every retailer will have their own unique set of 'basics' that they need to deliver. Simple factors like the provision of discrete litter bins in-store, which are so often overlooked, as are the time-consuming maintenance and specialist cleaning techniques required for some store fixtures and the new levels of hygiene. These are a prerequisite in today's stores. These factors must be considered when designing retail concepts, so they do not hinder the staff's ability to look after the store. A store that makes it easy for staff to comply with merchandising standards, adjust and maintain product displays and easily change messaging, all subtly contribute to job satisfaction.
Do your merchandising systems, in-store messaging or technology help or hinder your staff's ability to look after the store?
When retailers deliver a store with staff in mind, it shows real commitment to making sure the whole store works. Investing in these basics demonstrates a great understanding of the efforts of those who work in the store. This consideration has huge impact on staff's loyalty and day-to-day engagement.
There remains much speculation about the future of brick-and-mortar retail and what it might look like in 5 to 10 years. What is clear is that central to any future retail success stories, will be an exceptional group of motivated and engaged staff.
We know that there are many factors that influence staff motivation, but there is little doubt that the impact the physical retail store has upon their day-to-day working life is significant.
The six insights above are not exclusive. There are many ways that the physical store can be made into a better workspace and there is no one-size-fits-all solution. If retailers focus on showing their staff that they care and understand what is most important great staff experiences will emerge. Deliver a great Staff Experience, and you will ultimately amplify your customer's experience too.

Like this article? Here are some related pieces: