Designing the right retail experience
Our Founder, Ian Johnston was joined by John Giacomazzi, VP of Retail Merchandising and Store Design at Xfinity, to deliver a talk at EuroShop 2020. This focused on the importance of designing the 'right' experience in physical retail stores. This article is based on the key themes that Ian and John discussed.
Why are we talking about the 'Right' experience?
For some time now we at Quinine have been encouraging our industry peers, from design and retail, to really think about what we mean when we use terms such as Experience, Retail Experience and Experiential Retail. These are undefined, overused words, all too often preceded by 'Good' or 'Great' and are often cited as the answer to the future success of retail. However, delivering good experiences in retail is only one part of the story. Just because an experience is good, does not mean that it is the right experience.
To deliver the right experience, retail businesses must firstly understand who they are designing the 'right' retail experience for. They need to know exactly who is coming into their stores and keep track of their evolving expectations. Factors including the convenience of online, a deepening connection with brands and the improvements and innovations people see in the other public spaces that they visit, all influence the expectation of the store experience and put huge pressure on retailers to respond.

Customer expectations are a moving target. The influence of online, brand promise and public spaces are causing expectations to rapidly evolve and increase in complexity.
To complicate this further retail businesses themselves are also evolving. So how can retailers align these dynamic consumer expectations with the changing business needs, to deliver the right physical retail experience? The following insights reflect some of the conversations and thoughts that Quinine have had whilst working towards delivering the right experience within the Xfinity store formats.
Understand why your customers come into your store
In our webinar series 'What is Experiential Retail?' we identify the five reasons why people visit stores. We call these the 'Experience Realms'. These capture the scope of what good experiences can be. As we have said, a good experience is not enough, it needs to be the right experience. It's crucial that retailers only consider the experience realms that are right for their brand, and that align with the reasons why customers come into their stores.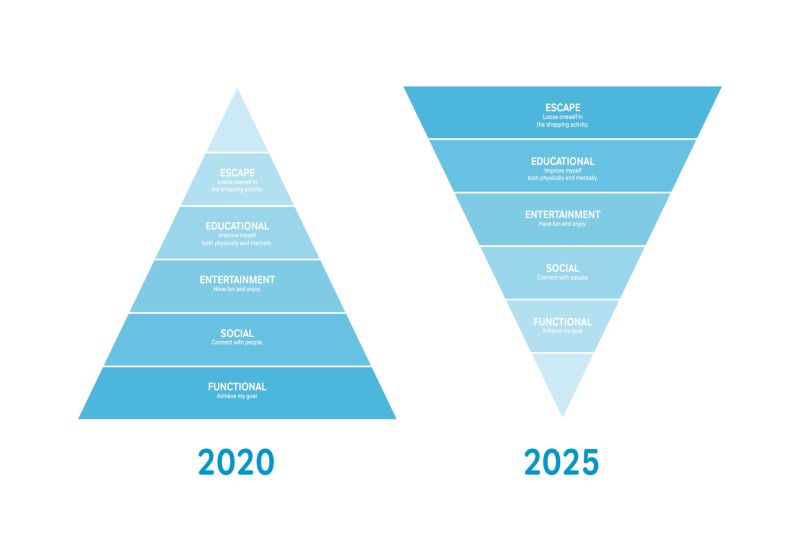 The Experience Realms: In the next five years we expect the reasons why people come into store to change.
Having worked with Xfinity since 2015, we have observed how customer expectations of the brand continue to evolve.
Historically, the Xfinity branded retail space was associated with operational activities such as the return of TV equipment and paying bills. Now, Xfinity's offer has shifted and the focus is on delivering engaging customer experiences. So, rather than simply understanding which of the five experience realms have driven their customers in-store, the business has a responsibility to communicate to customers that there has been a change in Xfinity's retail offer. Customers need to be encouraged to come into stores for different reasons than before and they need to be educated to understand the new and diverse product assortment now available to them.
As this change continues and customer expectations evolve, more people are coming in-store to interact with staff and browse products. With this new footfall, Xfinity are starting to use customer data to fine-tune their offer to meet expectations and to create the right retail experience.
Historically, the Xfinity branded retail space was associated with operational activities such as bill payment, now the focus is on delivering engaging customer experiences.
Focus on location
Just because a store experience or store format is a success in one location, does not mean it will work in all locations. Consumer shopping habits and how shoppers engage with retail experiences can differ greatly by region, city and sometimes even between different streets within the same city. Retailers must take location into consideration when deciding on the right retail experience for their 'local' customers.
As Xfinity's products and services have evolved, and as the customers' expectations have shifted, the location of stores has also needed to adjust. Historically, it made sense for Xfinity to locate their 'Payment Centre' formats in easy to access locations such as industrial strip malls or retail parks. Today, with their broader proposition, the business is focusing on sites in shopping heartlands.

A high profile store in King of Prussia, America's 2nd largest mall, demanded a new customer centric format. Complete with interactive product areas, consultation zones and a 28ft screen to hero Xfinity content, this store demonstrates how the right format in the right location is a recipe for success.
Using data, the Xfinity team is targeting A/B tier malls and lifestyle centres; where their customers already want to shop. The clearest example of this shift in strategy is Xfinity's store in the King of Prussia mall.
Make it real
Despite the convenience and range that online can provide, customers continue to come into physical stores to try, touch and play with the products and services on offer. The built retail environment must integrate itself with the online experience, but also respond to this appetite for real, physical and tactile experiences.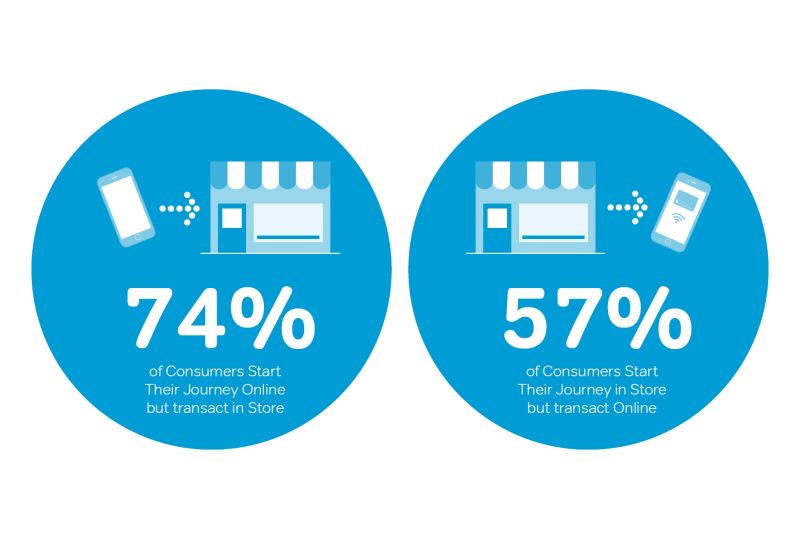 According to JRNI's annual consumer research report, the physical store environment plays a vital role in the shopping journey for the majority of customers.
The first step in making the Xfinity store 'real' was to make all the products live. The Smart Home suite of products is now presented in contextual home settings in live mode. With the help of Xfinity advisors and an app on an iPad, customers can see how these live devices really work. The focus is on giving customers an in-store experience that is real – the same experience that they'll get when using Xfinity products and services in the comfort of their own home.
Contextual home settings present the product suite in live mode.
Don't underestimate the role of staff
Consumers continue to come into the physical store for human, face-to-face experiences. Physical retail stores with great staff still give the best opportunity to deliver a truly meaningful and personalised experience.
According to a recent consumer research report* almost 2/3 of shoppers indicate that they would like the option to make scheduled appointments with expert retail staff, and 71% of shoppers say that in-store staff have a significant impact on their overall experience**.
Within the Comcast business there is a clear understanding that the retail teams are central to delivering the right experience within Xfinity's stores. Supporting this belief, they have a dedicated team within the Comcast University, to support Xfinity's retail associates. Staff are trained in a broad range of skills; from product knowledge and storytelling to greeting and engagement. This training helps improve face-to-face interactions between expert staff and customers, building brand trust and loyalty, ultimately providing better conversion rates and increased 'basket value'.
Knowledgeable and friendly associates are the key drivers of a shoppers' retail favourability.
Walk with your customers into the future
There is an amazing capacity to innovate within retail right now. But before retailers jump into these innovations with both feet, it is essential that they are able to take their customers with them on this journey.
Retailers must carefully introduce new experiences at the pace that is right for their customers. Do this at a pace that confuses the customer and they may not understand why you have introduced this experience.
Back in 2015, the Xfinity store in Havertown was one of their first new format store evolutions. Following the era of bill payment and equipment returns, this was the first format where customers could test, touch and try Xfinity products and services in store. Also included in this format was a large table where customers could get tutorials with expert staff.
However, in reviewing the format prior to rollout, it became clear that the shift to live products and devices was enough to feed customer expectations. The inclusion of a learning experience was a step beyond their expectation, at this point in time, and thus engagement was limited.

The inclusion of a learning experience in earlier Xfinity stores was a step beyond customer expectations, today visitors are ready to sit and learn.
A few years later, customers were ready to sit and learn in store and the learning table was re-introduced into the concept. The learning experience's success reminds us, that the right experience needs to be delivered at the right time for the customers.
Get the entire business to commit first
If a retail business does not have a long-term strategy, budget and resources to support, maintain and renew experiential interventions in their stores, these stores will never live up to the customers' expectations on an ongoing basis. A 'good' experience is for the launch weekend, whereas the 'right' experience continues to deliver throughout the life of a store-fit.
As the Xfinity brand has grown and the physical retail footprint has evolved, some of their business streams, not traditionally channelled through retail, have seen stores as a great opportunity to gain more customer-facing presence.
One such example is the Comcast Business offer. To support this new offer, a dedicated in-store area featuring product displays and consultation spaces was installed. This project was driven by an internal team, with little retail experience or understanding, so it took time for them to realise that they needed to support and maintain this activation to ensure its success, and it took even longer for them to organise the additional budget and resource needed. This highlights the importance of the entire business working together, not in silos.
Don't be afraid to try
If businesses are to get retail experiences right, then they need to be comfortable in getting it wrong. Businesses must test, try and re-try their ideas before investing fully in the experience. Whether it be a retailer with just a few stores or a global retailer with hundreds of stores, it is essential to test ideas, accept that they may fail, learn from that, revise and then test again. This iterative approach is essential to any long-term success.
Testing is key to the way that we work with Xfinity. In a purpose built prototype space, complete with façade, Xfinity test, try and re-try everything from fixtures and technology to packaging and product merchandising.

This prototype, 'proof of concept' approach, is a great start, but there is more that must be done in order to rollout a concept with confidence, and we know that the best test is to execute new ideas in a working store.
The Xfinity Lab store on Walnut Street, Philadelphia, the best way to test is to execute new ideas in their intended future state.
Three blocks away from Comcast's Philadelphia HQ is the Xfinity Lab store. Here Xfinity are constantly trialling new initiatives and interventions and they are able to truly understand how staff respond, how customers interact, and the impact of these initiatives on the customer journey and in-store experience. This is the perfect environment in which to fine tune the 'right' experience, before rolling it out.
Summary
Designing a good retail experience is not enough. It is essential that retailers are pursuing the right experiences. Ones that are right for their brand and align with their customers' expectations.
Whilst the insights that we have outlined here are just the start of the jigsaw puzzle, they begin to show us that designing the right experience is not straightforward. It demands the careful balancing of multiple factors.
But let's not be afraid to try. As we move from 'good' experiences towards the creation of the 'right' experience we will see their value and impact on the bottom line.
* JRNI Annual Consumer Research Report
** Inmoment Retail Trends Report
Xfinity is the retail arm of Comcast, the brand is considered the 19th most valuable brand in the US. Quinine has been working with the Xfinity brand since 2015, collaborating on numerous strategic and design focused projects, looking at defining the right retail experience for their customer.
This article is a shortened version of the conversation between Ian and John at EuroShop 2020. If you would like to hear the talk in full you can download it as a podcast/webinar here.
Like this article? Here are some related pieces: